Understanding a network is not easy and network management is the starting point for good IT administration. It is the counterpart of software monitoring, looking into devices and network agents rather than apps and HTTP requests. As you can imagine, it is essential for an IT admin to have full awareness of what's going on in a monitored network, to better understand device dependencies in detail and act consequently.
At Glasswire, we think that the best way you can experience something, network behaviours included, is through your senses. The same logic that applies to an audible alerting system, in fact, applies to a visual notification.
Keeping track of the devices in your network can easily get complicated if you don't have the chance to see and visualise them at a glance. This evidence-based principle is the reason why one of the main features we wanted to develop for our software was the visual network monitor. This is the activity network diagram you get as soon as you open either the desktop or the mobile Glasswire app.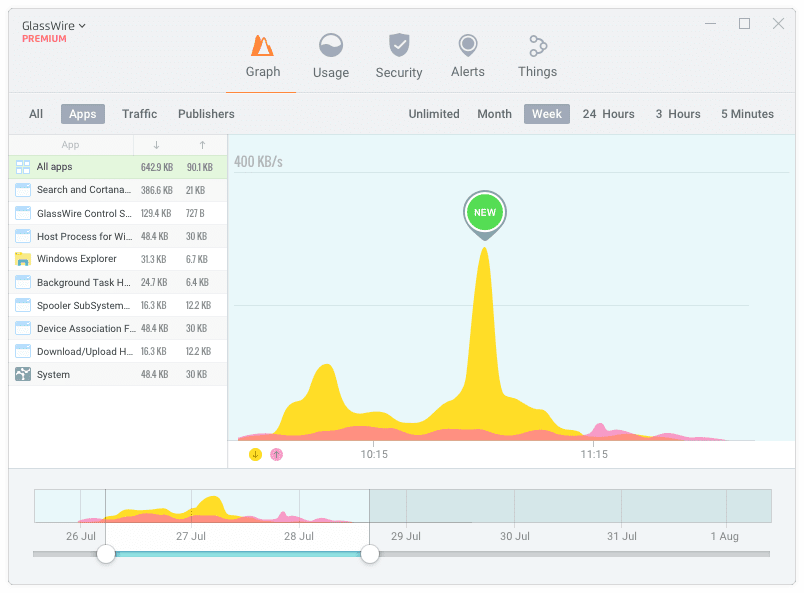 From the data chart, you have the chance to monitor network traffic and be aware of your data consumptions with respect to the various apps that are consuming data, the type of web based traffic and the publisher of the software.
Long story short, a picture is worth a thousand words.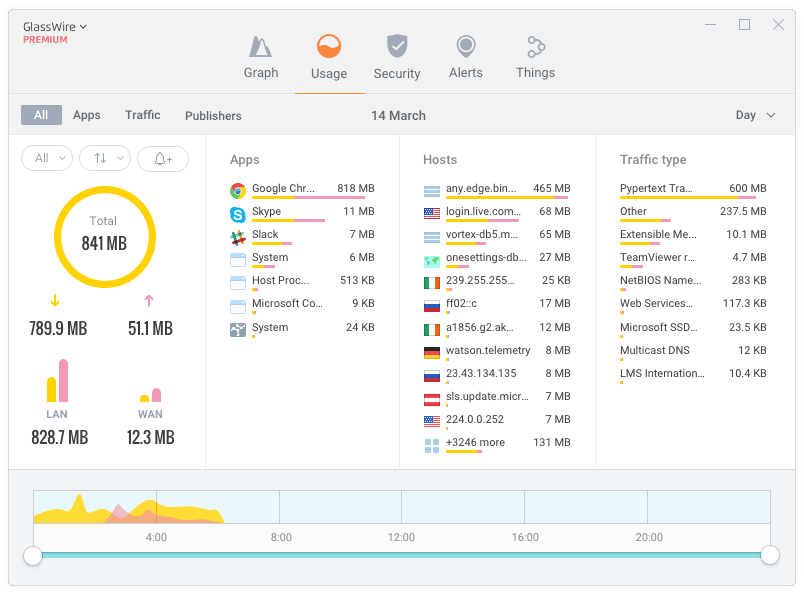 Glasswire is clearly among the best solutions when it comes to internet privacy protection, network data usage monitoring and personal firewall profiles.
But there are features needed by Managed Service Providers and IT Departments of small and large organizations that fall out of our scope. Network topology mapping, IT asset inventory, remote network management, SNMP monitoring are some of them and in the networking industry there are few tools can offer these professional grade features while keeping the price affordable, ensuring scalability and reducing complexity if compared to other tools in the market. This is why we partnered with Domotz, the award winning Network Monitoring and Management Software designed exactly to do that: a simple network monitoring tool for scalable IT infrastructures.
Keep reading to discover more about Domotz and how it can help MSPs and Enterprises ensure scalability, efficiency and security for their IT operations.
Domotz | Network Monitoring Software Made Easy
Domotz is a software designed to help MSPs and IT Professionals monitor their digital networks more efficiently and with a high level of automation. Fast to install and easy to use, it is an essential tool to monitor any network in real time, completing the features you can already have with Glasswire.
With automated network mapping and advanced network asset monitoring and inventory, Domotz can help your team gain full visibility on managed networks. You can gain a holistic view of digital networks and start to monitor and manage all the connected devices on them.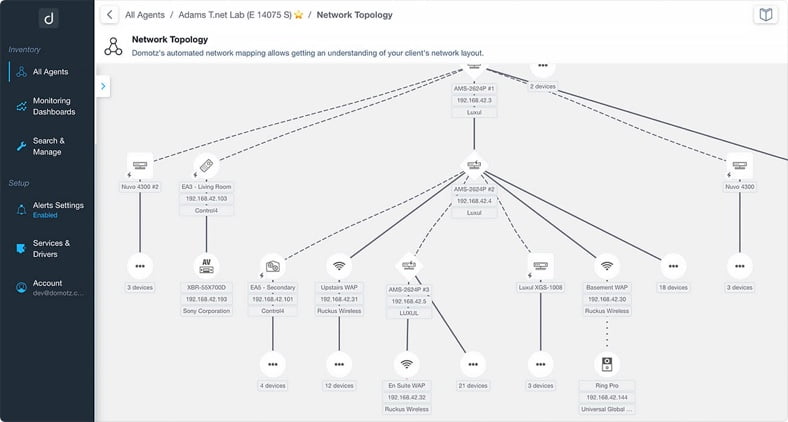 VPN on demand, secure remote connection and remote power management are some of the key features for MSPs and IT departments to monitor and manage networks remotely while increasing efficiency.
It's packed with the features you need like advanced monitoring of SNMP sensors, automated network topology mapping, network configuration management, versioning and backup.
Moreover, in a world where the Internet of Things (IoT) is becoming increasingly important, it's key to rely on a tool that helps you not only manage the network infrastructure, but brings awareness to the devices showing up on the network and their potential security problems.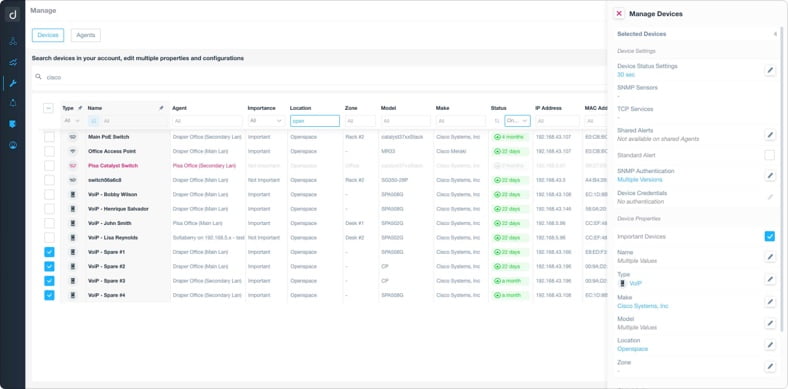 Domotz can help you troubleshoot a wide range of network issues by providing tools to work effectively across four main areas, which are the pillars of the software:
Inventory: Automated devices and attribute discovery, automated network mapping, to get full visibility and actionable insight on all devices and IT infrastructure you manage.
Monitoring: Network monitoring and alerting with general online/offline status, advanced monitoring of SNMP sensors, and much more.
Management: Secure access to any device in the network to connect remotely and resolve issues just like you would if you were on the customer's site. Advanced features for Network configuration management, versioning, backup, special integrations for Access Points. Security cameras and many other types of devices.
Security: Automatically scans networks for security issues with network security scans. Leverage 2FA, SSO/SAML Authentication for secure Access to your Environment.
With 500+ software and hardware integrations, data connection with the major BI platforms, and a complete set of network monitoring and management features, Domotz allows you to scale your business with an automated system designed for fast and easy deployment.