The newest version of GlassWire has rolled out, setting a higher bar for network monitoring and security software.
This milestone update introduces a slew of advanced features, placing even more powerful tools at users' fingertips. Two standout features at the forefront of this release are the revamped Geo Map and the polished User Interface. In this article, we'll explore these enhancements in detail and shed light on the impressive capabilities they offer.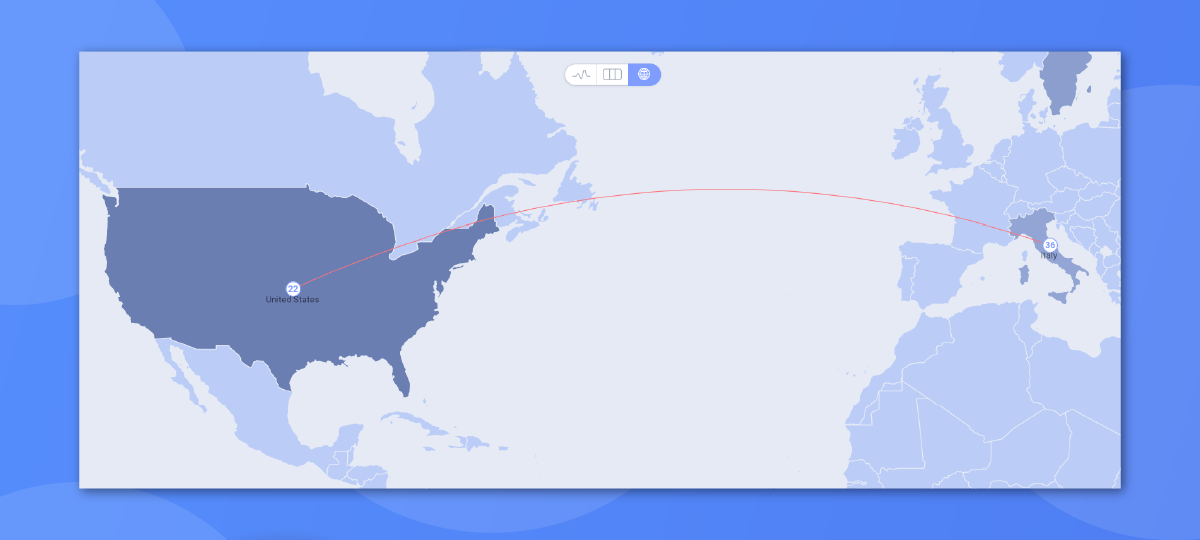 1. Geo Map for Global Network Insights
One of the most exciting additions to GlassWire is the new Geo Map. This feature is a game-changer in understanding your network's global footprint. It enables users to visualize network activity in real time on an interactive world map. Now, not only can you monitor which applications are utilizing your bandwidth, but you can also pinpoint their geographic locations. This is invaluable for detecting unusual network behavior or unauthorized access attempts from foreign locations. GlassWire's Geo Map provides a comprehensive, real-time view of your network's global connections, enhancing security and network optimization.
2. User-Friendly Interface Overhaul
GlassWire's commitment to user experience shines through in the redesigned User Interface. The new UI is not just a facelift but a significant enhancement that makes navigating the software even more intuitive. Streamlined menus, improved icons, and a cleaner layout make it easier for novice and experienced users to access the software's powerful features. The intuitive nature of the interface ensures that you can effortlessly access the full range of GlassWire's functionalities without getting lost in complex menus.
3. Real-Time Bandwidth Monitoring with Geographic Context
The combination of the Geo Map and real-time bandwidth monitoring takes network analysis to the next level. Now, you can not only identify bandwidth-hungry applications but also see where in the world they are connecting to. This geo context can be a crucial factor in diagnosing network issues, such as slow internet speeds or unusual data usage patterns. Whether you're managing a home network or overseeing a corporate network infrastructure, this insight is invaluable.
4. Visualizing Security Threats
The Geo Map also plays a pivotal role in network security. When paired with GlassWire's robust threat monitoring and alerting capabilities, you can quickly identify suspicious connections or potential threats originating from specific regions. This visual representation makes it easier to spot anomalies, enhancing your network's security posture.
5. Effortless Privacy Management
The improved UI extends to privacy controls as well. GlassWire users can now conveniently toggle between Incognito Mode and standard monitoring. This ensures that your online activities remain private when needed, further highlighting GlassWire's dedication to user privacy.
In summary, the latest version of GlassWire presents a quantum leap in network monitoring and security. The inclusion of the Geo Map not only offers a stunning visual representation of your network but also provides geographic context that is vital for both security and performance optimization. Combined with the overhauled User Interface, which makes using GlassWire more intuitive than ever, this software upgrade is a must-have for anyone serious about network management and security.
Upgrade to the new GlassWire today and experience the future of network monitoring with unparalleled ease and insight.